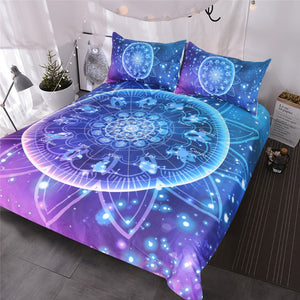 The Official Strange & Creepy Store!
3pcs Mandala Galaxy Zodiac Glitter Bedding
3pcs Mandala Galaxy Zodiac Glitter Bedding!
Package Includes: 1x Duvet cover (Without Comforter) + 2x Pillow shams
Fabric: Microfiber
USA Twin Size: Duvet Cover: 173cmx218cm, Pillow Case: 50cmx75cm                    
USA Full: Duvet Cover: 203cmx228cm, Pillow Case: 50cmx75cm                    
USA Queen: Duvet Cover: 228cmx228cm, Pillow Case: 51cmx90cm                     
USA King: Duvet Cover: 264cmx228cm, Pillow Case: 51cmx90cm, 
BREATHABLE SOFTNESS - Softness and warmth breathable & hypoallergenic, stronger and more durable than cotton, microfibers are processed to protect against any shrinkage after washing  

ZODIAC SIGN LOTUS MANDALA DESIGN - A lotus flower mandala in teal blue, blue and burgundy with a white transparent astrological symbol for circle zodiac chart.

COMFORTABLE: Microfiber duvet cover set is designed to resist wrinkles and pilling, it will stay like new through many machine wash cycles. Strong and durable, yet luxuriously soft, duvet cover offers all the advantages of standard cotton duvet covers at less cost!

CONVENIENT: Duvet covers stay on the duvet and function like sheets -- they absorb moisture and dirt, protecting the duvet itself so you can strip just the cover off and wash it.

PERFECT FIT - This 3 Piece Duvet Cover Set Includes: One Duvet Cover and Two Pillow Shams each.
            NOTE: Set DOES NOT include any INSIDE FILLERS AND ACCESSORIES.
CLEAN DESIGN - Duvet cover has nonslip corner ties and hidden zipper closure; shams are finished neat with envelope closures.
 PLEASE NOTE: This set does NOT contain a comforter or fillers. This set contains a duvet cover sheet, which can go over an existing comforter or quilt.
How To Put On a Duvet Cover?
Step 1: Lay the comforter flat on top of your mattress.
Step 2: Take your duvet cover and turn it inside out. Insert your hands inside and find the two top corners. You should now be holding one corner in each hand.
Step 3: With your hands inside the duvet cover, reach down to grab hold of the comforter's top two corners.
Step 4: Holding the top two corners tightly, flip the duvet cover right side out over the comforter. Give it a shake and a fluff until the duvet cover falls down to cover most of the comforter.
Step 5: Pull the duvet cover down. Stuff the bottom two corners of the comforter inside the bottom two corners of the duvet cover. Once everything is aligned, zip it up!
---
Share this Product
---
More from this collection