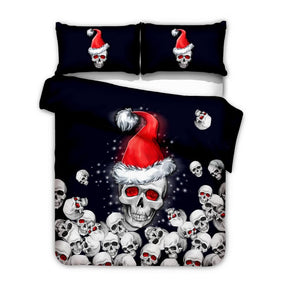 The Official Strange & Creepy Store!
The Christmas Skull Duvet Bedding Set
FREE SHIPPING ON ALL ORDERS!
When you LOVE SKULLS and you love CHRISTMAS! 
*** Does NOT contain a comforter or fillers. Contains a duvet cover sheet and two pillowcases. 
Features: 
Durable, soft, lightweight, fade-resistant and wrinkle-resistant

Machine wash with cold water. Do not bleach. Tumble dry, low heat. Do not dry-clean

 
Sizes- 
TWIN: Quilt cover 150*200 (without sheets) Pillowcase 50*70*1 0.9kg   
QUEEN: Quilt cover 228*228 (without sheets) Pillowcase 50*70*2 1.2 kg
KING: Quilt cover 260*230 (without sheets) Pillowcase 51*90*2 1.5 kg
EU double: Quilt cover 200*200 (without sheets) Pillowcase 50*70*2 1. 1 kg
How To Put On a Duvet Cover?
Step 1: Lay the comforter flat on top of your mattress.
Step 2: Take your duvet cover and turn it inside out. Insert your hands inside and find the two top corners. You should now be holding one corner in each hand.
Step 3: With your hands inside the duvet cover, reach down to grab hold of the comforter's top two corners.
Step 4: Holding the top two corners tightly, flip the duvet cover right side out over the comforter. Give it a shake and a fluff until the duvet cover falls down to cover most of the comforter.
Step 5: Pull the duvet cover down. Stuff the bottom two corners of the comforter inside the bottom two corners of the duvet cover. Once everything is aligned, zip it up!
---
Share this Product
---
More from this collection